Hello,
I have been trying to get my Tritium to communicate with my Arduino UNO R3 using I2C.
I know of the voltage difference (tritium 3.3v vs Arduino 5v) and got a bunch of bidirectional logic converters.
I hooked it all up:
Tritium 5v - Arduino VIN
Tritium GND - Arduino GND
Tritium 3.3v - Logic converter LVin
Tritium GND - Logic converter LVGND
Tritium pin 3 - Logic converter LV1
Arduino SDA pin - Logic converter HV 1
Tritium pin 5 - logic converter LV2
Arduino SCL pin - Logic converter HV2
Arduino 5V - Logic converter HVin
Arduino GND - Logic converter HVGND
I configured my Arduino following a tutorial on YouTube to receive on I2C address 0x8 to turn the led on and off, just as a way to test it.
Now running
sudo i2cdetect -y 0
gives me random I2C adresses but no address 0x8. Also running the command multiple times gives me a different output every time.
I also tried disconnecting all the cables from my Tritium and I still get random I2C adresses. You can see the output on my screenshot. (Screenshot is without any I2C devices connected. So it should give an empty list, but the list changes every time)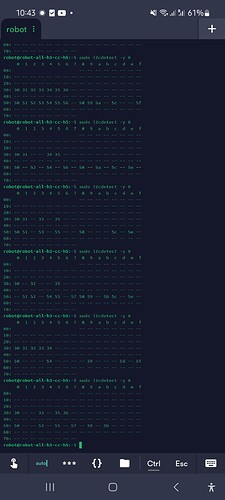 I'm running Ubuntu Desktop with multi-user.target