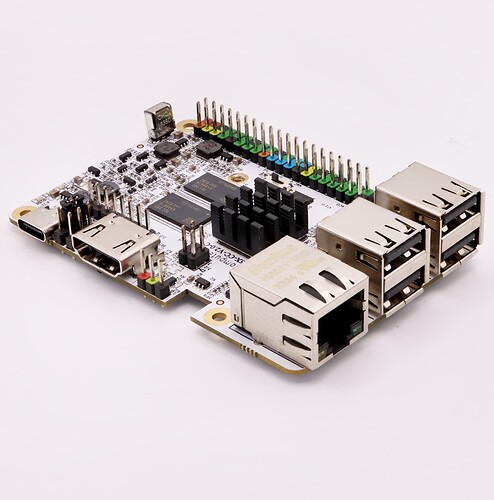 Libre Computer AML-S905X-CC-V2 Sweet Potato board is an all digital complimentary design to the long term supported AML-S905X-CC(-V1) Le Potato platform. Like Le Potato, it is designed for 4K media with a 40-pin header compatible with a variety of HATs. It does not replace Le Potato since it is designed to address different markets. It is available on Amazon and AliExpress for $35 shipped.
Differences from AML-S905X-CC(-V1) Le Potato:
DDR4 vs DDR3 (Negligible Performance Difference)
2GB SKU only, OEM only 1GB Model
No CVBS/Stereo Analog Audio Jack
16MB SPI boot ROM with Boot Select Switch
MicroSD card Power GPIO
PoE Header
USB Header
eMMC 5.X Slim Module with Mounting Standoff
USB Type C Power In (5V 3A vs 5V 2.5A MicroUSB)
Same as AML-S905X-CC(-V1) Le Potato:
Form Factor
4 USB Type A Ports
RJ45 Fast Ethernet
40-pin GPIO Header
8-pin Audio Header
3-pin UART Debug Header
3-pin CEC/GPIO Jumper Header
Amlogic S905X SoC
IR Sensor
HDMI 2.0
Sweet Potato features design elements targeted at new commercial and consumer applications.
The internal 5-pin USB header enables the use of USB Video Class (UVC) cameras in embedded designs. UVC cameras are widely available from numerous vendors with customized ISP, sensors, and lenses enabling quick time-to-market solutions. As a high speed bus, it enables a whole new classes of applications not available previously. The pinout sequence is the same as the standard PC 9-pin header. Another application for this header is for attaching custom RF solutions such as WiFi, Bluetooth, Zigbee, Matter, and even software-defined-radio (SDR).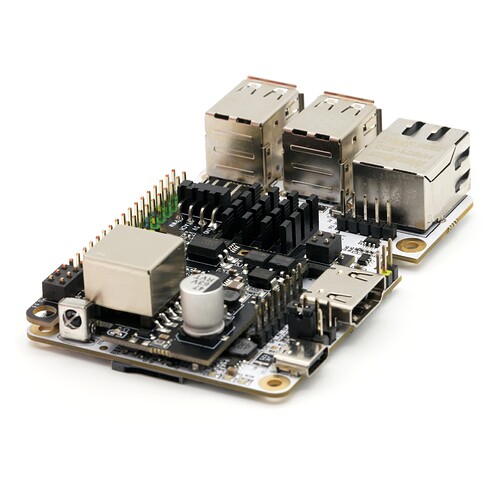 PoE header provides effective single cable data power solutions in remote applications. Sweet Potato's efficient 1W idle power consumption is industry leading, making it ideal for always-on PoE edge applications with and without battery backup.
With the EU mandated transition to USB Type-C, Sweet Potato complies with modern product design regulations. The wide availability and standardization of USB Type-C power supplies are welcomed changes to reduce electronic waste. Here at Libre Computer, our composible designs with long term software support creates recycle value that mitigates the diversion of our products into land-fills.
Standardized boot with UEFI support is finally here. We were the first non-x86 SBC vendor to offer UEFI support in 2018. All of our product designs since 2018 feature support for onboard firmware. Sweet Potato supports booting standard ARM64 EBBR/SystemReady images. We continue this proud tradition of standardization by creating the first complete product-line standardization of our bootloaders.
Sweet Potato is a new and exciting platform we want to share with you. It is the culmination of almost a decade of engineering at every level to make the perfect hardware/software stack for your applications.