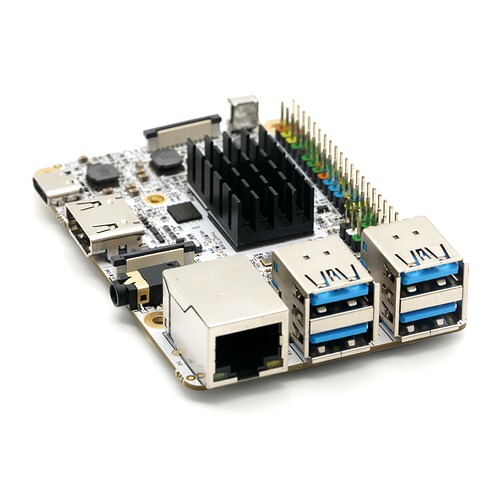 Libre Computer AML-A311D-CC Alta, part of our Cottonwood family, is our latest performant AI-enabled single board computer designed for compute-intensive applications. With upstream AI and neuro-computing support, this board brings advanced hardware acceleration for the perfect mix of general purpose and specialized computing.
Compatible with SystemReady IR operating systems, Alta incorporates a advanced BIOS compatible with UEFI and supports standard Linux distributions out of the box. It offers seemly hardware migration for existing CC form factor applications that require advanced performance and new capabilities of the Cottonwood platform. It can boot any official Libre Computer image for any board since the BIOS abstracts the hardware behind UEFI.
The board offers industry-leading 1W idle power consumption and can be flexibly powered by USB Type-C, Power over Ethernet, or 5V header directly. For rich IO applications, the performance is similiar to our ROC-RK3328-CC Renegade platform with its Gigabit Ethernet and USB 3.0, although now four ports are exposed via USB 3.0 hub. System wake via UART, IR, button, and GPIO are supported for additional power optimization in constrained environments.
New to the Cottonwood family are MIPI CSI and DSI connectors not found on the Potato family. MIPI connectors follow the 22 pin layout found on the Raspberry Pi Zero W and Compute Module Base IO board for re-use with existing cameras and displays. Combined with the 5+TOPs NPU, Alta is ideal for realtime 4K+ video footage object detection and other modern AI workloads.
Features
4 M Cores
2 E Cores
4 M GPU Cores
5+ TOPs NPU Cores
Up to 4GB LPDDR4X
USB Type C Power + 2.0 Data Dual Role
HDMI 2.1
3.5mm Jack with CVBS and Analog Stereo Audio Output
Gigabit Ethernet with WOL
4 USB Type-A 3.0 Hub
PoE Connector
40-Pin GPIO Connector
IR Receiver Sensor
DSI 4-Lane 22-Pin Connector up to 1080P
CSI 4-Lane 22-Pin Connector up to 8MP with 2 Cameras
16MB Open Source UEFI BIOS
eMMC 5.x Slim Connector
MicroSD Card Slot with UHS SDR104 Support
The 40-pin header offers good pinmux coverage for existing peripherals in the Raspberry Pi and CC ecosystems. Additionally, it features numerous I2S, PDM, and TDM pin for support 16+ far field microphones making Alta a premier audio visual core board.